On your mark, get set, ready and …
REGISTER by Thursday, September 14 to guaranteed your 2017 TWILIGHT T-SHIRT!!
Support the South County Marching Stallions!  September 30th, 2017.  The Twilight Rock-n-Run 5k, 1 Mile Glow Walk and Kids Fun Run is a family-oriented, evening run with music to benefit South County High School Band.
All events begin on South County High School's campus and end in the school stadium. South County HS is located just 18 miles south of DC, a mile from the Lorton Exit (163) on I-95, and near the Workhouse Arts Center.
The 5k race is run on… click on the image below for more details.
WE NEED VOLUNTEERS!! We need a lot of hands on deck. To volunteer at the event, click on the link below. Students can receive volunteer hours!
https://m.signupgenius.com/#!/showSignUp/409084bada723a13-twilight1/12874562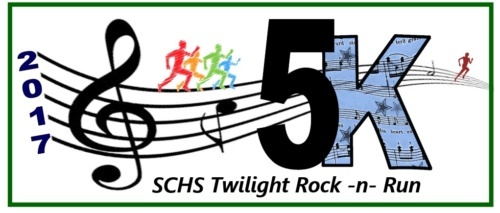 A huge thank you to the following sponsors for supporting our 5K Race!!

South County Drumline Recognition
The South County High School Indoor Drumline was recognized at the June 20, 2017 Fairfax County Mount Vernon Board of Supervisors for their accomplishment at the 2017 Winter Guard International world competition.  With a score of 91.575, the Indoor Drumline won seventh place in their class, ranking them the top finalist in the Scholastic programs of the Atlantic Indoor Association. Go SOCO! Click below to see images:

South County High School Pit Orchestra
A huge shout out to the South County High School Pit Orchestra (see image) for their outstanding "snappy" performances for the ghoulish musical comedy "The Addams Family" (May 5-6 and May 12-13, 2017).  A very clever and hilarious show, great job to everyone!
South County High School Drumline
Congratulations to South County High School's Indoor Drumline (see image). On Saturday, April 22, 2017 they won 7th place (out of 15 total) at the 2017 Winter Guard International (WGI) world competition in Dayton, Ohio with a score of 91.575.
Their show titled "Rise Above" was arranged and choreographed by our head percussion instructor, Grant Butters. A big thanks to him and staff members Ben Mitchell and Chad Riley as well.
Way to go SOCO!
Pre-Assessment Concert
Click on the image below to start the slide show.
All-District Band
Congratulations to the following students on their performance in the All-District Band earlier this month: Hamed Akrami, Neha Agarwal, Jordan Hinkle, Isabelle Nguyen, Jessica Anstice, Raatib Rahman, Jasmine Bryant, Erin Dittus, Michelle Lai, Liam Marinkovich, Katelyn Mansfield, Lillian Ervin, Amanda Ljuba, Moonjong Kim, Jaden DelaConcepcion, Sarah Anstice, Rachael Austin, Jenna Saylor, Darron Quidilla, Thomas Bragg, Jonathan Ahn, Anthony Buchman, Steven Barnett, Charlie Gorham, Jefferson Antwi-Agyei and Myles Ragins.  They represented South County at the event from February 2nd-4th at Hayfield Secondary.
All-State Eligible
Congratulations to the following students on being eligible to audition for All-State Band via their placement in all-district band: Hamed Akrami, Isabelle Nguyen, Liam Marinkovich, Darron Quidilla, Thomas Bragg and Charlie Gorham.  These students will travel to James Madison University on Saturday, February 25th to audition against the top students from around the state.