Pre-Race Volunteer Support Needed
We need volunteers to help spread the word. Great way for middle and high school students to earn service hours. We need volunteers to print flyers, staff tables at football games to promote the race and place flyers at local races too. For full details and to sign-up, please click here.
5K Run Committee Meeting – please attend tonight!
Next committee meeting Tuesday, August 21st at 6:30 PM in the band room. Click here for more information in how you can help volunteer for this event.
Sponsorship Information for the SCHS 5K Twilight Rock-n-Run
Click here if you would like to sponsor the upcoming South County High School 5K Rock-n-Run on September 22.
Twilight Rock-n-Run 5K Registration is Open!
Registration for the 2018 Twilight Rock-N-Run is Open! You can click on the link to register today! Link: https://potomac.enmotive.com/. Additional information about the race, can be found here: http://schsbands.org/5k-run/.
============================================
TAG DAY – SEPTEMBER 15th
This is one of our best fundraisers and all band students will need to participate. ALL music students will canvass the local neighborhoods and request donations for the school's Music Department.  The more students we can get out there, the more successful this fundraiser will be!  This fundraiser is so successful because the only investment it takes is a few hours on a Saturday ~ but we do need 50-60 adults to run Tag Day.  You can help by ensuring that your student participates.  We also need parents to drive – morning, afternoon, or both shifts.  The event will run from 8:30AM until 4PM (or when all routes are finished) and pizza will be served (free!)  during lunch.  Last year, we had to send 10 eager students home because we didn't have enough parent volunteers.  We don't want that to happen again this year!  Signup information will be out soon!
============================================
MARCHING BAND Tailgating Forms (Due August 22nd)
Click here to order your dinners for game night.
MARCHING BAND Show Shirt Order Forms (Due  August 27th)
Time to order this year's show shirts. Click here for order form.
============================================
Congratulations to the South County Drumline
Congratulations to the South County High School Drumline for making it to the finals and winning 11th place in the World Open Class in Dayton, Ohio. The Drumline was directed by Grant Butters with help from Ben Mitchell, Chad Riley, and Anthony Khong. Way to go SOCO!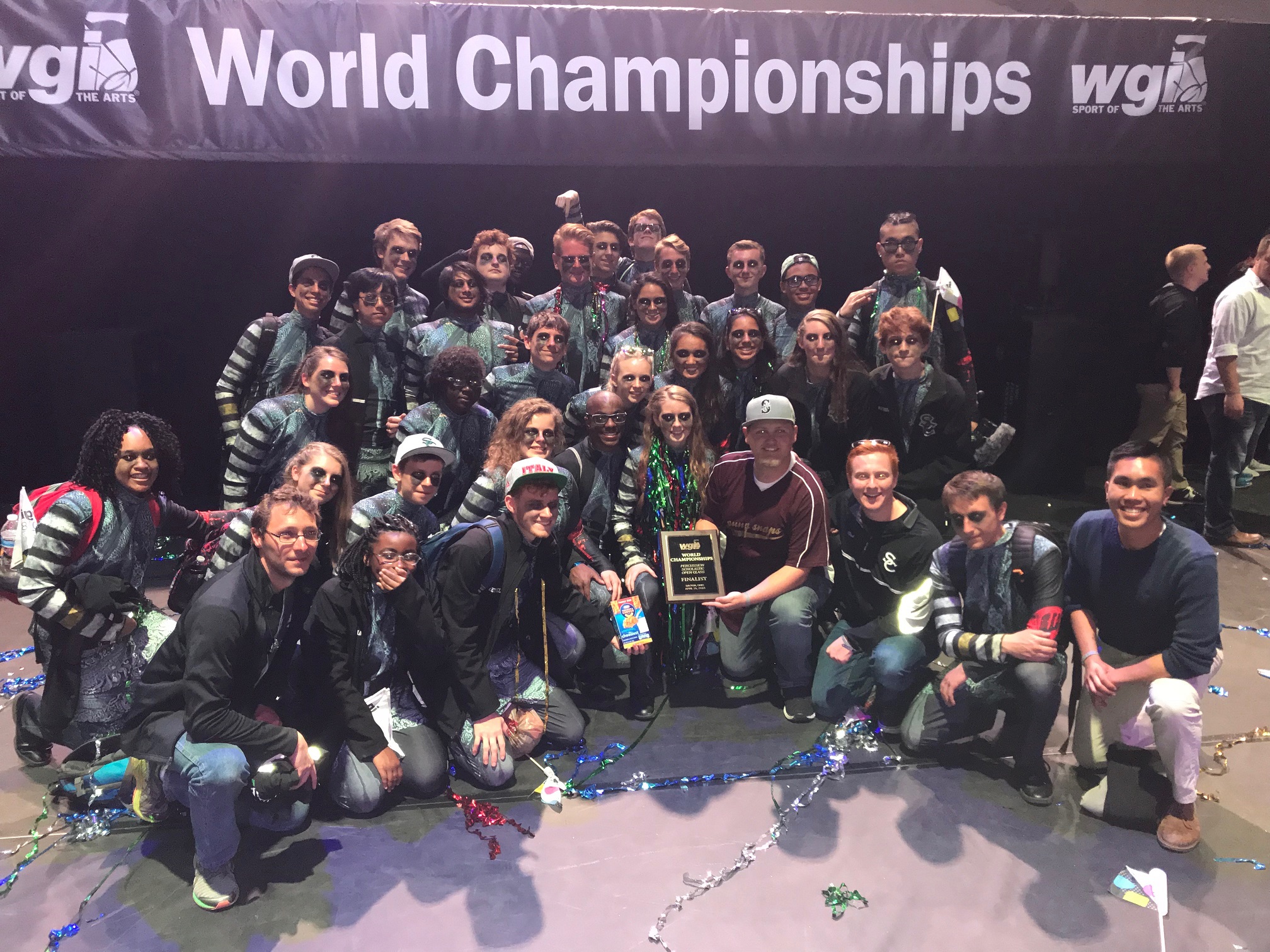 FCPS School Board Recognizes South County High School Marching Band
On Thursday, December 7th, the Fairfax County School Board recognized the marching band at their regular School Board meeting. Congratulations for a successful season!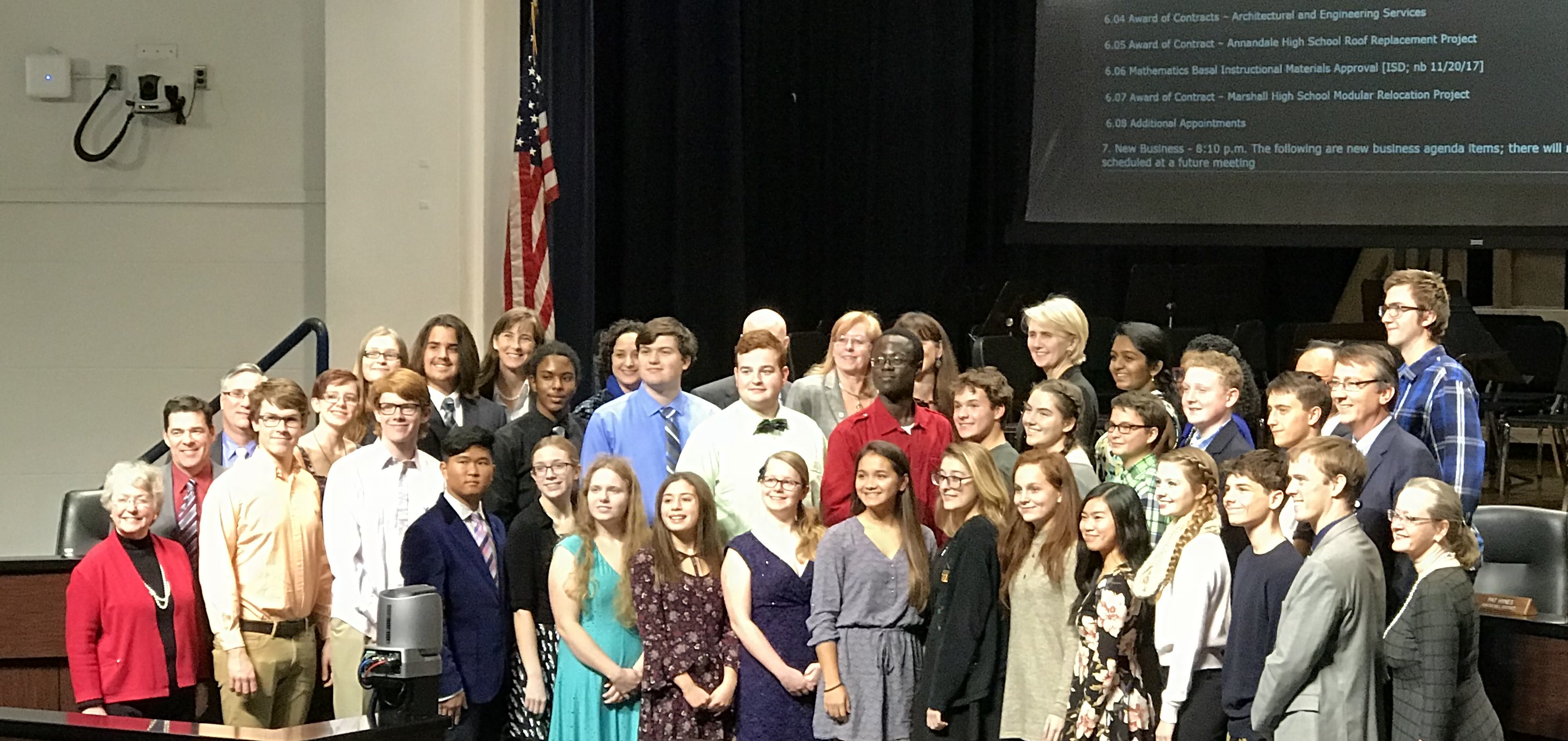 FIRST PLACE ~ US BANDS NATIONAL COMPETITION – Allentown, PA
Congratulations to the South County Marching Band for a successful win at the US Bands National Competition in Allentown, PA. The band won first place in  the Class IVA National Championship on November 5th. Their Tell-Tale Heart show also earned them Caption Awards for Best Music, Best Percussion, Best Color Guard, Best Visual and Best Overall Effect! Click on the image below to for a slideshow.
South County 2017 Marching Band
The South County High School Marching Band performed at the US Bands Competition at Herndon High School on Saturday, September 23. Click on image for slideshow.

South County Drumline Recognition
The South County High School Indoor Drumline was recognized at the June 20, 2017 Fairfax County Mount Vernon Board of Supervisors for their accomplishment at the 2017 Winter Guard International world competition.  With a score of 91.575, the Indoor Drumline won seventh place in their class, ranking them the top finalist in the Scholastic programs of the Atlantic Indoor Association. Go SOCO! Click below to see images:

South County High School Pit Orchestra
A huge shout out to the South County High School Pit Orchestra (see image) for their outstanding "snappy" performances for the ghoulish musical comedy "The Addams Family" (May 5-6 and May 12-13, 2017).  A very clever and hilarious show, great job to everyone!
South County High School Drumline
Congratulations to South County High School's Indoor Drumline (see image). On Saturday, April 22, 2017 they won 7th place (out of 15 total) at the 2017 Winter Guard International (WGI) world competition in Dayton, Ohio with a score of 91.575.
Their show titled "Rise Above" was arranged and choreographed by our head percussion instructor, Grant Butters. A big thanks to him and staff members Ben Mitchell and Chad Riley as well.
Way to go SOCO!
Pre-Assessment Concert
Click on the image below to start the slide show.
All-District Band
Congratulations to the following students on their performance in the All-District Band earlier this month: Hamed Akrami, Neha Agarwal, Jordan Hinkle, Isabelle Nguyen, Jessica Anstice, Raatib Rahman, Jasmine Bryant, Erin Dittus, Michelle Lai, Liam Marinkovich, Katelyn Mansfield, Lillian Ervin, Amanda Ljuba, Moonjong Kim, Jaden DelaConcepcion, Sarah Anstice, Rachael Austin, Jenna Saylor, Darron Quidilla, Thomas Bragg, Jonathan Ahn, Anthony Buchman, Steven Barnett, Charlie Gorham, Jefferson Antwi-Agyei and Myles Ragins.  They represented South County at the event from February 2nd-4th at Hayfield Secondary.
All-State Eligible
Congratulations to the following students on being eligible to audition for All-State Band via their placement in all-district band: Hamed Akrami, Isabelle Nguyen, Liam Marinkovich, Darron Quidilla, Thomas Bragg and Charlie Gorham.  These students will travel to James Madison University on Saturday, February 25th to audition against the top students from around the state.