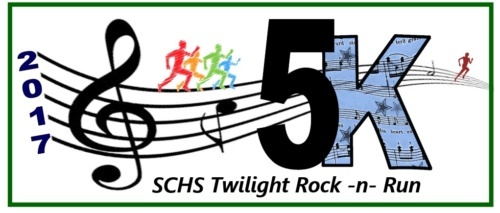 Friends of South County High School,
The Twilight Rock-n-Run 5K Race Committee cordially invites you to participate in this exciting 3rd annual event as a sponsor, with proceeds to benefit the South County Band program. In the past, the Twilight 5k race was a huge success supported by the local community and area businesses. With a goal to duplicate prior achievements, the SCHS Band Boosters have a marketing plan in place to reach out to local television, radio, newspapers and internet sites for pre-race and day of media coverage.
On September 30 at 7:00 PM, runners will take their mark outside the SCHS stadium on Silverbrook Road. The course has runners loop behind the school and return to the stadium to finish as spectators cheer them on. The South County Marching Stallions will also be at the stadium to provide encouragement and entertainment. Awards will be given to the top three runners in each age and gender category.
Your sponsorship helps to minimize costs associated with organizing the race (participant t-shirts, certifying the course, accurate race timing costs, awards for top runners, and drinks for runners during and after the race). All proceeds will benefit the work of the SCHS Band Boosters, a non-profit 501(c)(3) entity charged with providing additional revenue to develop a successful fine arts education for all students in the band at both South County High and Middle Schools. SCHS Band Boosters raise funds for new instruments, instrument maintenance, uniforms, music rights, entry fees to competitions, transportation, and music assistant fees. The Band Boosters were proud to support the SCHS Athletic Boosters in their efforts to bring synthetic turf to the local community. The Boosters have also made item donations and citrus donations to the Lorton Action Community Center and Food Bank.
There are multiple levels of sponsorship available for the Twilight Rock-n-Run 5k Race! Size and placement of logos on promotional materials are based on your sponsorship level. Click here for sponsorship levels.
Thank you for your consideration! Simply complete the sponsorship form (click on button below), call, mail, or email the Twilight Rock-n-Run Race Committee at SCHSTwilight5K@gmail.com or Race Director Katie Lord at 412.260.2705 to confirm your support for the South County High School Band!
Sponsor Form